February 20, 2018 – by Casper Bakker
Help outside office hours
At Picqer we find it super important to offer you the best possible support. Whatever your question is, we are happy to help you as quickly as possible.
With a small team we can only offer this support during office hours. But also outside office hours we are at work for you. We keep an eye on the performance of Picqer and we receive direct notifications when something is not going as it should be so that we can immediately intervene. This way we ensure that Picqer is always fast and accessible so you can do your work.
Sometimes something specific is going on with your webshop that we cannot recognize automatically. In such cases you sometimes need our help, even outside office hours.
Urgent question
That is why you now can indicate in Picqer at 'Help & Suggestions' that your question is urgent. We will immediately receive a notification and we will help you as soon as possible.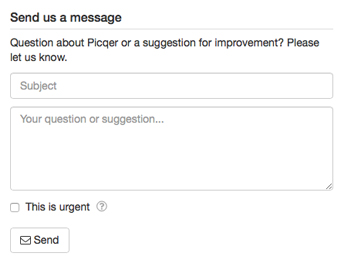 You can only see this option outside of office hours, because during 9 to 5 you will always receive a quick answer from us.
Hopefully you will never need this option, but if you do you now know how you can reach us.