Product Management
With Picqer you have all your products in one place. You can manage product information as detailed as you wish, including multiple images per product. Picqer also knows which supplier to use, if there is a minimal amount you need to purchase and the weight of the product.
Don't use your keyboard
Of course you don't need to type in all that information yourself. Import product data easily from your ecommerce software, upload them from Excel or insert them via the API.
Purchasing and inventory settings
There are settings per product to enhance Picqer's purchase advice, like minimal order quantity. You can also specify when Picqer need to re-order that product and how many Picqer needs to purchase.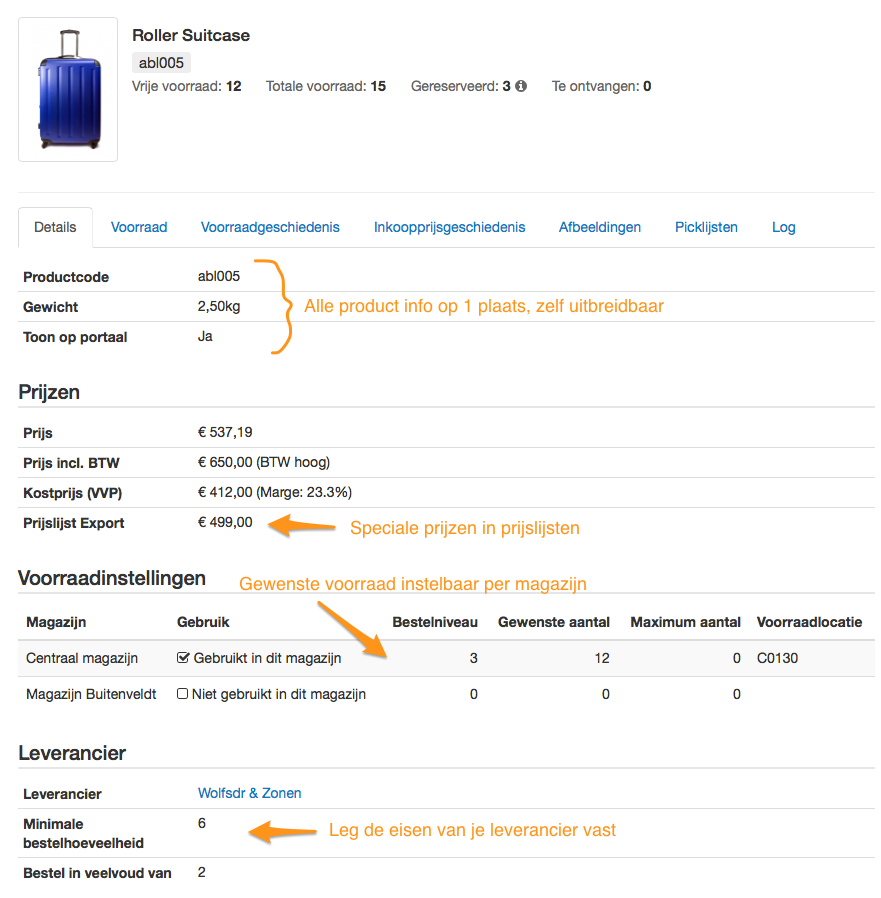 Unique product code
Every product has a unique "product code", also known as SKU (stock keeping unit). This number identifies each unique product and is being used to communicate with your webshops and market places.
Assembled products
Picqer has support for "assembled products". These are a combination of other products, sold with a specific title, price and its own product code. For example a "green chair", that is a combination of 1 green seat and 4 legs.
When a customer orders a "green chair", Picqer will show you that you need to pick 1 green seat and 4 legs. Also Picqer will calculate the virtual stock of the assembled product, based on the current stock of its parts.
Price lists
Not every customer is the same. That is why some customers get a different price then others. With price lists you can define as many different prices for a product as needed. Then you can define per customer which price lists are allowed for this customer to use. Picqer will then automatically calculate the right price for that customer.