May 17, 2016 – by Casper Bakker
Picqer iOS Scanner App
After months of development and testing, it finally arrived: the Picqer iOS App. With this App you turn every iOS device into a mobile hand scanner. Welcome in the era of paperless picking.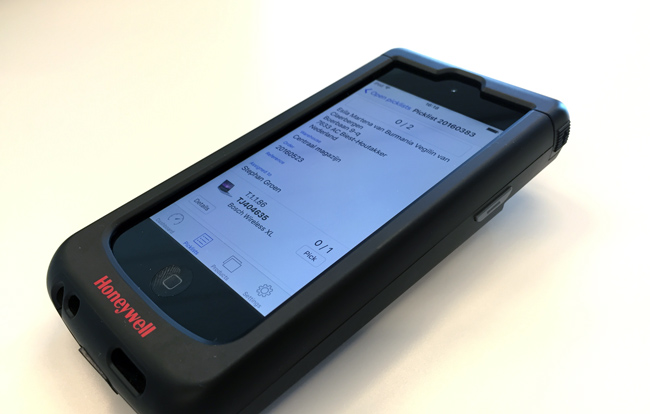 Mobile picking
This first version of the App is focused on picklist handling. It is a companion for the people working in the warehouse. They directly see where they need to go, can scan their product and directly create a shipping label. Printing picklists on paper is a thing of the past now.
In the coming months we will add more features to the App. For example support for combined picklists and processing inbound orders.
Barcode scanner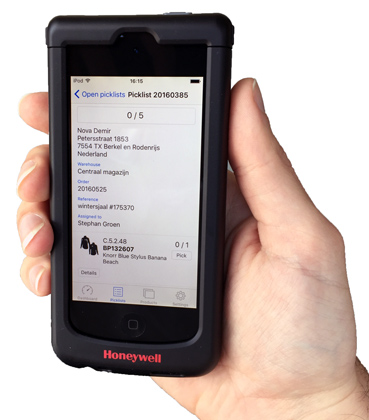 The App has support for Honeywell barcode scanners) which can be added to a iPod touch or iPhone. With this scanner you can effortlessly scan the barcodes of the products. Even in dark warehouses.
Cost effective
An iPod touch with Honeywell scanner may look expensive with 650 euros, but you easily make that money back. With 40 orders a day, you will save the same money with less printing within 6 months.1
Download from the App Store
You can download the Picqer App in Apple's App Store. Sign in with your Picqer username and password and you can start picking. The App is available for all Picqer users for free.
We are very excited about this App. We hope you like it and please let us know what you think of it and what things we can improve.
1 We calculated this based on € 0,10 paper, toner and printer costs per page. 40 orders x 30 days x 6 months x € 0,10 per page = € 720