September 21, 2017 – by Casper Bakker
Improvements to purchasing and smart purchase advice
Picqer's Meet & Grill event last week was a great success. With more than 100 customers and partners it was a relax event with a lot of knowledge sharing.
And like we presented at the event, we launched a lot of improvements to everything related to purchasing, including a new Smart Purchase Advice.
Purchasing: everybody uses it
In addition to orders and picklists, purchasing is the most widely used module. And after improvements to picklists, orders and returns, it was time for improvements for purchasing. We've reviewed the entire purchasing process from front to back, and noted where we can make your work easier.
We have reviewed all the suggestions you have made about purchasing and interviewed different users to get the best picture of possible improvements.
Purchase orders
We've expanded the purchase orders with a few tools to make your work easier:
Order of expected delivery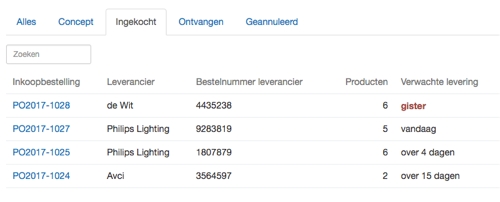 Purchase orders are in order of expected delivery, where we indicate which orders are too late. This makes it easier for you to check on your supplier's promises and find out before customers are calling in.
Suppliers requirements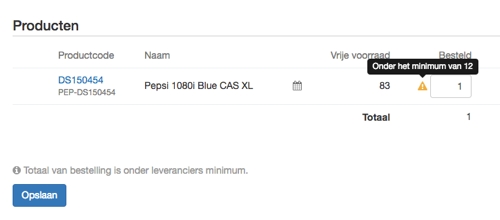 Suppliers can have many requirements for your purchase orders. For example, a minimum order amount, minimum quantities per product or purchasing with specific packaging units. Picqer keeps an eye on these requirements so you do not have to worry about it anymore.
Delivery date per product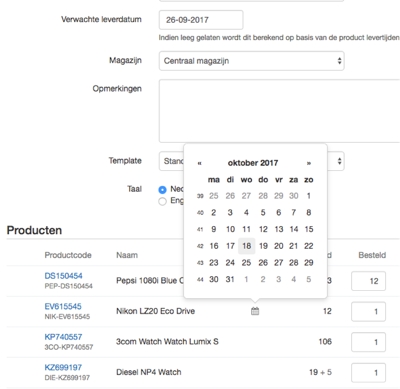 A highly demanded feature: Specify expected delivery date per product. Apart from the general delivery date of a purchase order, you can overwrite it by product. For example, if some products are not in stock at your supplier and will be delivered later.
Purchased-by line

At the bottom of a purchase order, you can see which user has purchased the purchase order and at what moment.
Register receipt
When registering the receipt, we have made improvements to make this process easier in your warehouse.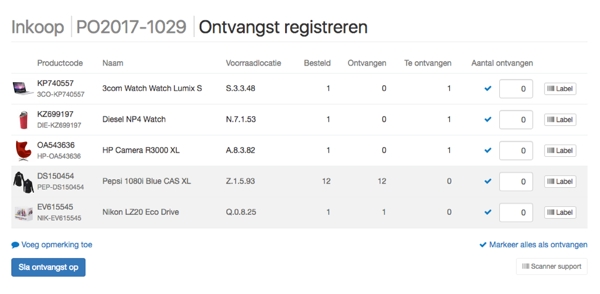 You'll see more information about the products so you know better if you've received the right product.
With the check mark, you can instantly report the entire amount received, just as you can do with picklists.
If you scan a product with the barcode scanner, the page will scroll to that product and we'll highlight the product. This shows you easier how much you should receive and what the stock location is.
If not all products have a barcode, you can indicate for specific products that you want to print barcode labels.
After receipt, you can also print product labels of all products received.
And beside the put-away-list as PDF you can also download it as Excel.
Purchasing Advice
For Purchase Advice we started with a blank sheet and looked carefully at how you use the purchase advice. Many of you trust the advice given by Picqer, hence we have reduced the amount of information on the advice to make it more peaceful. Want to know why Picqer recommends a product to buy? Click Details and you'll see the underlying numbers.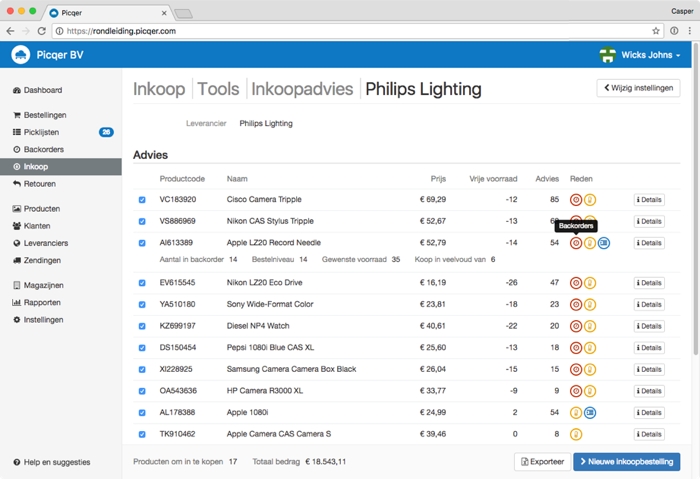 The bottom bar always shows how many products you will buy and for what amount. Want to buy a lower amount? Then you can check the checkboxes out of the products you want to skip for now. The bar at the bottom and the top of the table always remain in sight to make it easier to work with large purchases.

As soon as you convert a purchase advice into a purchase order, Picqer checks if there is a purchase order available for this supplier. If so, you can also add the advice to an existing purchase order.
Purchasing strategy

For products, you can clearly choose "Buy only for backorders" or "Keep in stock". In addition, we have changed the order level: if your order level is 2, we will order the product if the stock is 2 or lower. We've transformed all your products into this new method.
Smart Purchase Advice
But just a new interface for purchase advice is not all yet. We also provide a brand new version of the advice with Smart Purchasing Advice.
With Smart Purchasing Advice, Picqer looks at your sales in the past and gives a forecast of sales in the coming weeks. If we expect you to sell more than you would buy with your order levels, Smart Purchase Advice will advice to buy more so you do not have to say no to your customers.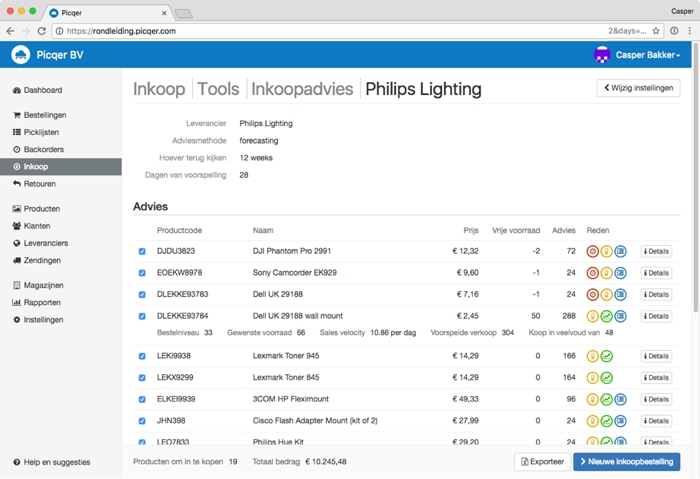 Smart Purchase Advice will get better at recognizing patterns over time to give you the best automated advice.
Directly available
All of these improvements to the whole purchasing process are now available for all Picqer users.
We are very excited to hear about your experiences. Try it out and let us know what you think of it.