Case: wholesaler 'Bak het zelf' happy with Picqer
"Picqer was made for me! It couldn't be easier."
"Since 2013, the Dutch wholesaler Bak het zelf has been serving various companies, from small to large cake shops, from original to sustainable baking products. Tamara van de Pol, initiator of Bak het Zelf, wanted to get a grip on her inventory management. Picqer turned out to be the solution. The user-friendly online stock management system provides direct insight into your stock and ensures that it can serve its customers quickly."
"We wanted to be able to be only have little stock for our products , so we were looking for a system that could provide us with insight of our inventory and margins," says Tamara. "Picqer ensures that we have a grip on our stock. We make a monthly printout of our stock list and check if everything is alright. That works very well and helps us to keep the company healthy."
The origin of 'Bak het Zelf'
'Bak het Zelf' serves the market by offering original and sustainable baking equipment at an affordable price and with good service. "There has been a lot of dissatisfaction in the cake market. Materials were poorly available, were poorly delivered and you paid sky-high prices. The range of templates and other tools were also very limited. I wanted more, so together with my husband we thought about setting up a wholesale ourselves. Before we really knew it, the decision had been made," Tamara says with a laugh.
The search for an fitting stock management system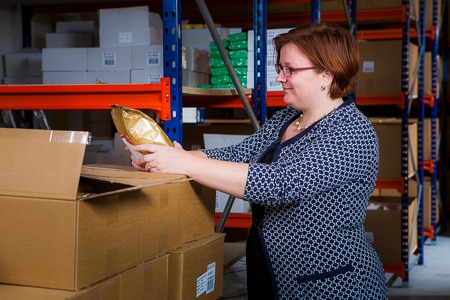 Tamara is unpacking incoming products
Tamara was looking for an affordable inventory management system that could provide insight into her inventory, was time-saving and easy to learn. Finding a system that met her requirements turned out to be a real quest: "Before we came to Picqer we had already been to several suppliers. I got sick, weak and nauseous from the prices I saw there. These systems also had all kinds of functionalities that didn't apply to me at all. I imagined myself on the phone for hours because I wouldn't understand systems. An inventory management system should just do what it should do. You shouldn't make it more difficult than it is. And that's exactly how Picqer thinks about it."
Why 'Bak het Zelf' chooses Picqer
Tamara was quickly convinced of the benefits of Picqer: "Picqer is online and you don't need to have someone in your house for hours to set everything up. That immediately appealed to me. We were also allowed to try the software for two weeks. You're not immediately stuck with high costs, which I find a big plus!" In addition to trying the software for free, it is also possible to get a personal tour of the system. An employee of Picqer will show you in an hour how the software works in practice and can answer all your questions immediately.
User-friendliness is key
The trial period pleased Tamara and she got to work enthusiastically. "Picqer felt as if it was made for me, I can read and write with it and I can also explain it to someone. It couldn't be easier! Entering the stock list was super easy. If I can do it, everyone can do it! " Tamara jokes.
A super fast ordering process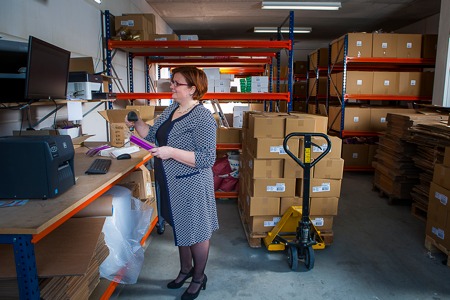 All products are scanned to keep track of stock
The order process of 'Bak het Zelf' runs through various channels. For example, Tamara receives orders via email, telephone and via the webshop. Orders via the webshop are automatically forwarded to Picqer. Orders over the phone or email are entered manually. Picqer ensures that this process runs smoothly from order to delivery by automating various steps, such as sending a confirmation email to the customer. This is how Tamara assures her customers of a fast delivery: "If our customers have ordered before 4:00 PM, they must have it delivered the next day. This system makes it possible. My order is completed with only three pushes of a button!"
Picqer prevents errors by checking
An error in the order is quickly made. With the help of Picqer's checks, Tamara can prevent incorrect orders: "All our products have their own product number and barcode. We scan the products one by one before packing them. When a wrong product is scanned, Picqer immediately gives a warning sound". When all products have been checked, the order can be completed. Picqer forwards the invoice directly to the accounting program and produces a packing slip and a PostNL shipping label. The only thing left for 'Bak het Zelf' is to seal the box.
Future plans: (inter)national provider for baking products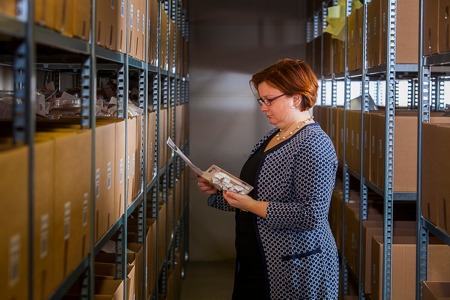 Tamara has all products in stock
'Bak het Zelf' wants to become the supplier of baking products for cake shops at home and abroad. 'Bak het Zelf' has already taken the first steps towards the foreign cake market: "At the moment I have two customers in Belgium and I am working on entering the German market. In these countries, the same problem can be seen as in the Netherlands. These countries already shop a lot in the Netherlands.
Good solutions
Tamara explains how she experiences the collaboration with Picqer: "What I love about Picqer is that when I run into something, there is always someone who immediately tries to find out what is going on. Picqer provides really good solutions and explains where I need to look out for in the future ". When asked whether she would recommend Picqer to others, she resolutely replies: "Absolutely! It is a very user-friendly system and is cost-effective for every company."
Facts & figures of Bak het Zelf
The baking products are conceived, designed and produced by 'Bak het Zelf'. The range consists of almost 1000 unique products. As a true wholesaler, they only deliver to shops and bakers via their website BakHetZelf.nl.
From their spacious warehouse in Andelst they send orders on the day of ordering. They ship via PostNL and pallet shipments through a local carrier.
Bak het Zelf has been using Picqer since May 2013. The interview took place in early 2015.
What can Picqer do for you?
Want to know more about what Picqer can do for your warehouse? Request demo and we'll show you how Picqer works for your warehouse.
More cases