Case: Sonja Kastermans shows Fietsparadijs warehouse.
"I could not have done it without Picqer"
Sonja and Koen Kastermans started calmly with their Fietsparadijs webshops. But when their whole house was full of stock they had to take the next step and move to a new location. "Thanks to Picqer we did not shipped an order too late after we moved to a new location. Without Picqer I could not have done that" says Sonja. She shows us their new warehouse in Beverwijk.
Roos from The Review Company visited Sonja on our behalf for a look behind the scenes.
Home full of stock
In order to serve customers as well as possible, Koen and Sonja wanted to keep their own stock as much as possible. They started the webshops of Fietsparadijs from their own home with stock piling up everywhere, from the living room to the attic. But when even the bedroom was filled with stock, it was time to move into a real warehouse. "We packed orders at the kitchen table."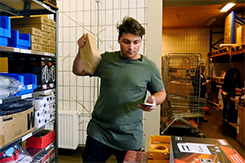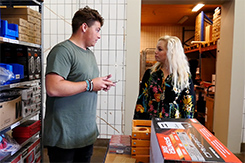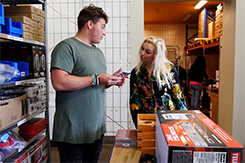 Koen searched for warehouse software, to ensure that after they moved everything was perfect. "In Picqer we found a very well equipped system to keep track of your stock, our inventory locations and make your purchasing easy."
Moving was easy
"Keeping track of our stock and finding the right product locations were the features we needed Picqer for the most," says Sonja. When we moved to the new location everything went smoothly because we kept all stock locations in Picqer. "We could easily update the locations in Picqer when we moved products. So we always knew exactly which product was where and we could count all stock at once".
Saving hours a week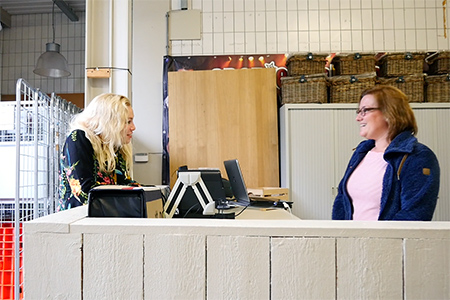 Sonja and Roos at the takeaway counter
Now a year after they moved to the new location, they are proud of their new warehouse and use many more Picqer features. "The Purchasing feature in Picqer saves us hours a week." They also use Picqer Mobile to pick batches paperless. In the video Wouter shows how this works.
Fietsparadijs has now 24 Lightspeed and WooCommerce webshops, with Picqer keeping track of the stock. "At the moment that one webshop sells something, Picqer adjusts the stock in all other webshops." This way a customer always knows whether a product is in stock and when they can expect the product at home.
We recommend Picqer
When we ask Sonja if she would recommend Picqer to other webshops she is clear: "Yes, absolutely! The Picqer team is very pleasant to work with and Picqer really saved me a lot of time."
Facts & figures of Fietsparadijs
Fietsparadijs.com is one of the dozens of webshops of Koen and Sonja. Focused on bikes, such as fietstas.com, fietskrat.com and fietsslot.nl. But also acculaders.nl and sd-kaart.nl belong to the network of Fietsparadijs.
For the webshops they use different software platforms, such as Lightspeed eCom and WooCommerce, but also offer products at marketplaces such as Bol.com Plaza.
Fietsparadijs has been using Picqer since June 2016. This interview took place in September 2017.
How can Picqer help you?
Want to know more about how Picqer works in your day to day operations and what benefits it can bring your warehouse? We are happy to give you a personal demonstration of our software. In a remote call we will show you how Picqer can help your business and we will answer all your questions.
Request a personal demonstration
More customer cases