Case: How Little Label improved its warehouse with Picqer
"What a relief, the user-friendliness of Picqer"
The Dutch baby and children's clothing brand Little Label wanted independence in managing their stock. With Picqer, the brand got a grip on their inventory management. In addition to independence, this online inventory management system offers speed, error reduction and increased customer service and thus exceeds all Little Label's expectations.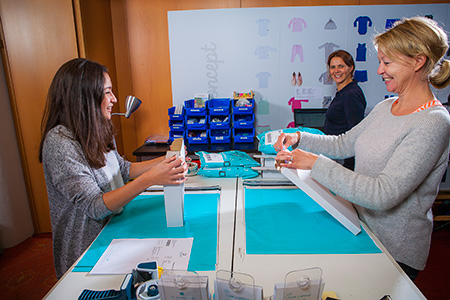 The Little Label team is packing orders
Little Label has been successfully designing, manufacturing and selling cotton basics for babies and children since 2005. The clothing is sold to both consumers and retailers. Previously, inventory management was outsourced to an external distributor, in 2012 Little Label decided that in terms of location and cost efficiency it was better to take the warehouse in-house.
Astrid Arts is customer service and office manager at Little Label and says: 'We now had our own warehouse in Amstelveen, but we were still working with the stock system of the former distributor. For any change or order difference, we had to contact the distributor, asking if it could be adjusted in the system. This resulted in an inefficient process and a high degree of dependence.
Choosing Picqer: an eye opener
This dependence, combined with the company's strong growth (which included a supplier agreement with Bol.com as of fall 2014), made the Little Label team decide in mid-2014 to take matters into their own hands and find their own online inventory management system.
Various warehouse management parties were invited to discuss the possibilities. Astrid says: 'These parties came up with major software, intensive implementation periods, high costs and substantial investments. We didn't really know what to do until Picqer was recommended by someone in our network. What an eye opener! Picqer fits exactly in our organization: no fuss and simple to use. Picqer also stood out in a positively in terms of cost.'
Implementation: arranged in no time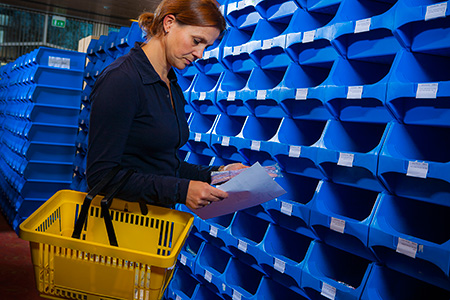 Astrid Arts 'shops' the picklist together
Shortly after the first meeting, Little Label said 'yes' to Picqer as their new online inventory management system. And not much later Picqer was implemented on location. Astrid describes the implementation as follows: 'Where other parties charged months for implementation, with Picqer this was arranged in one day. The system is so easy to use. We had taken one day for implementation, but we were done in half the time. What a relief, the user-friendliness of Picqer!'
This is how Picqer works for Little Label
Picqer is the common thread in the order process: every paid order is automatically forwarded to Picqer via the webshop. After checking the address details, the orders are closed and Picqer automatically creates a clear picklist. Then the products are manually selected from the warehouse. Then there is a check whether the correct product has been packed and this is confirmed in the Picqer system. Picqer then produces a packing slip, the system creates the shipment and produces a PostNL shipping label. All Little Label has to do now is pack the order and hand it over to the distributor.
'Working with Picqer is very simple and saves a lot of time. We have a grip on the stock, everything is clear and we can ship a large number of orders in a short time. The integration between the Magento webshops and Picqer is also very useful: when the shipment is ready, Picqer informs Magento. As a result, our customer always has an overview of the status of the order by logging into the online, personal order overview. And every customer automatically receives a shipping confirmation. It is ideal that Picqer now also includes a Track & Trace code in this confirmation, so that our customers can track the package online. This is not only efficient but also ensures that we can serve our customers even better,' Astrid says.
Above expectations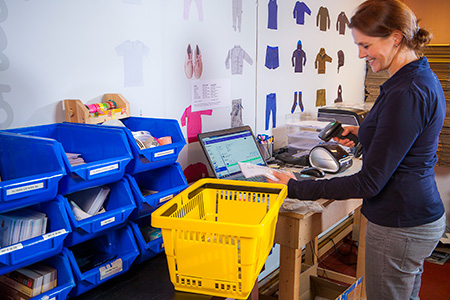 Scanning the products for 100% correct deliveries
The goal of Little Label was to be able to operate independently and time efficiently with its own stock management. With Picqer, both goals were achieved effortlessly, and even more than that, Astrid from Little Label shares with us:
'In addition to sales via the webshops, we also sell our collections to a selection of retailers. Inventory management and invoicing were previously done via all kinds of complicated Excel sheets. Time consuming and not always flawless. With Picqer, the Excel sheets are a thing of the past, for all our store orders we now also use Picqer's software. The retailer indicates what she wants, and from an app we import this into Picqer, from where the invoicing is taken care of. By also automating this process, we save a lot of time and virtually eliminate any errors.'
Picqer about Little Label
Then it's up to Casper Bakker, co-founder of Picqer. Casper enthusiastically explains how he experiences the process and the collaboration with Little Label: 'Speed is the first word that comes to mind. In the first instance I am thinking of the positive effect on the time efficiency for Little Label, but certainly also of the short period between the first conversation and the actual implementation. Little Label didn't even need to try out our software for free: the Little Label team immediately chose Picqer with full dedication. Our stock system was quickly adopted by the employees. After Picqer was implemented in the morning, the first orders were already placed in the afternoon.'
Facts & figures of Little Label
The baby and children's clothing from Little Labels is, in addition to physical children's shops, presented online in 3 Magento webshops LittleLabel.nl, LittleLabel.com en LittleLabel.de. The webshops welcome an average of 18,000 website visitors every month
The 15 to 150 orders per day from the 3 webshops arrive in 1 system and are picked, packed and shipped in the Little Label warehouse (500 m2). Little Label delivers worldwide and guarantees all its customers shipping within 48 hours. The Little Label team currently consists of 5 employees and 2 freelancers.
Little Label has been using Picqer since April 2014. The interview took place in November 2014.
What can Picqer do for you?
Want to know more about what Picqer can do for your warehouse? Request demo and we'll show you how Picqer works for your warehouse.
More cases