Our blogs are currently only in Dutch.
May 21, 2014 – by Casper Bakker
Lancering Picqer Kennisbank
Vandaag lanceren we de nieuwe Picqer Kennisbank. Op deze site vind je antwoord op vele vragen die je over Picqer kunt hebben. Om nieuwe gebruikers sneller op weg te helpen en voor bestaande gebruikers om nieuwe dingen te leren. We starten met al 40 artikelen en we zullen deze wekelijks aanvullen met nieuwe onderwerpen.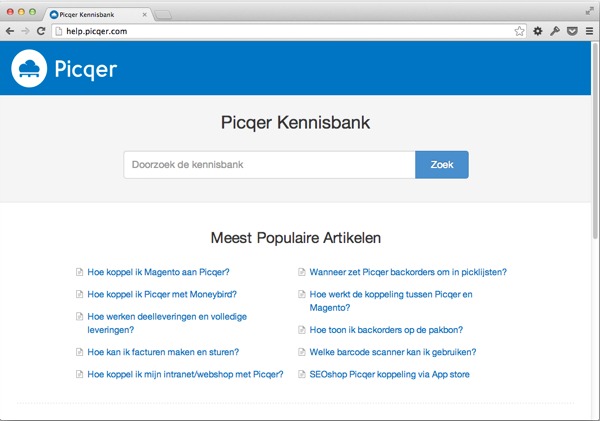 In de Kennisbank vind je zowel artikelen die de algemene werking uitleggen als artikelen die je stap voor stap uitleggen hoe je iets concreet kunt regelen. Bijvoorbeeld hoe je je Magento of Lightspeed koppeling instelt. Of hoe je backorders op de pakbon toont.
Met de Kennisbank hopen we het gebruik van Picqer nog makkelijker voor je te maken. Heb je suggesties voor de Kennisbank of staat je vraag er niet tussen? Dan kun je ons natuurlijk altijd mailen, we helpen je graag persoonlijk verder.